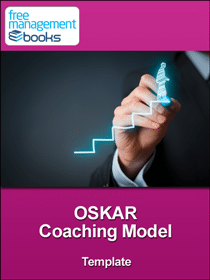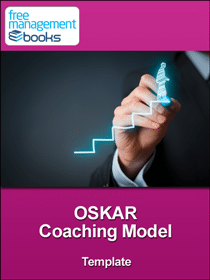 OSKAR Coaching Model Template
This OSKAR Model template enables you to record the coaching process using the OSKAR model. It is a solution-focused coaching model that focus's the coachee's attention on finding solutions rather than looking at how to address problems.
The OSKAR Model was developed by Paul Z Jackson and Mark McKergow who describe the model in their book 'The Solutions Focus, Making Coaching and Change SIMPLE', available from www.thesolutionsfocus.co.uk.
Instead of discussing difficulties and their causes the coaching sessions explore and define what currently works and doing more of it, not keep on doing what isn't working.
Using this coaching model each session explores:
• Desired goals,
• Exceptions that have led to success in the past
• Solutions (the changes that will have occurred once the goal is reached)
Using this model sets an expectation of making progress, attaining success and that people are competent. Its premise is that individuals keep on doing what works and stop doing what isn't.
The OSKAR coaching model requires you to ask questions in such a way as to move the coachee's attention away from problems in favor of solutions. OSKAR is an acronym for Outcome, Scaling, Know-how & Resources, Affirm & Action, and Review.
The 'Outcome' is the difference that the coachee (and those around them) wants to see as a result of the coaching.
'Scaling' determines to what extent the coachee believes the current situation is working.
'Know-how & Resources' enables the coachee to establish what factors are already contributing towards moving the situation closer to the desired outcome.
'Affirm & Action' helps to build the coachee's self-belief, as well as enhancing their relationship with their coach. The 'Review' stage involves reviewing progress and takes place at the beginning of the next coaching session. Solution-based coaching accepts that people have problems rather than them being the problem!