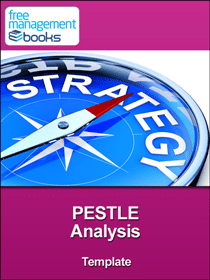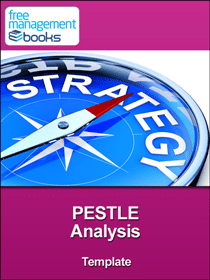 PESTLE Analysis Template
This PESTLE Analysis template is designed so that you can record those aspects within each factor of your PESTLE analysis that are outside your organizations control and will have an impact on how it operates.
Using PESTLE analysis is a method of analyzing the effects that a variety of outside forces will have on the operations and future of an organization. This method has become more popular in recent years as the fast-changing business landscape requires that managers always be thinking a step ahead to plan their next move. PESTLE is a good tool, although its usefulness depends on the specifics of your organization and in what manner you do business.
Each letter in the acronym PESTLE stands for a different portion of the analysis. The breakdown is as follows –
Political Factors. Any political action that could influence the organization is considered at this stage of the process. Most commonly, tax law is the largest political issue that will affect the average business. For companies that deal with importing and exporting, trade restrictions could also play a major role in the future health of the business.
Economic Factors. This is the economy as a whole, and the way it could affect what an organization is trying to do. Both interest and exchange rates can be powerful forces in the future planning of an organization, and they would fall into this category.
Social Factors. The social influence over a business is typically on the consumer end. For example, a company that produces a high-calorie snack food might be negatively influence by a trend toward healthier eating and living. Likewise, a business that sells newspaper advertising could be hurt by fewer and fewer consumers reading the paper. Understanding and adapting to social trends is crucial for long-term success.
Technological Factors. Any way that technology can either threaten or improve what an organization does should be included in this part of the PESTLE analysis. A company that hand-makes a product for a high cost can be in trouble when a new technology allows for mass production of the same good. Also, companies can find ways to streamline and increase profits when technology allows them to improve efficiency.
Legal Factors. If there are any changes to the law looming in the future, those could be important factors for a business to consider. Employment law, like the minimum wage, is a big topic that can have a huge effect on every business.
Environmental Factors. There is more focus on the environment now than ever before, and businesses need to take note. Natural resources are not infinite, and companies that rely on the earth to provide for their processes might find themselves lacking in the near future. Planning ahead for environmental issues is key to sustained growth.
The Advantages and Disadvantages of the PESTLE Analysis
The positive of using a PESTLE analysis is that it can give you a good overall picture of the status of an organization, both now and into the future. When you have completed a thorough PESTLE analysis, there should be no issue that hasn't been covered and you will have predicted the future as well as can be expected. No manager can completely forecast what is coming down the road, but this method will give you a good change at trying to dodge major problems and help the organization stay on track.
The downside to using the PESTLE method is that many of the factors might not relate to your specific issues or business. In fact, many managers will find that really only one or two of the factors are of major concern for their decision making. This fact renders the rest of the process useless and it could possibly waste time before that realization is reached.
Overall, PESTLE analysis is a quality tool that holds value for the managers of today. The world has never been more connected, or more complex, than it is right now. The more inputs you can consider and the more change you can forecast, the better manager you will be. Adding PESTLE analysis to your toolbox of skills is a great way to stay ahead of the game.