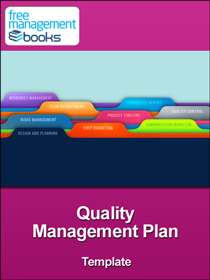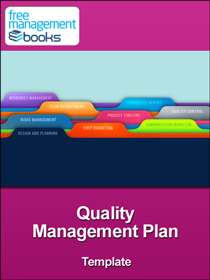 Quality Management Plan Template
This template guides you through the production of a quality management plan that communicates to your stakeholders, project team and third parties the importance you place on producing quality products and services.
It enables you to clearly indicate the quality requirements and boundaries of acceptance for all products and shows how you plan to implement quality assurance and quality control.
Quality is no longer a poor relation in terms of organizational concerns. In fact it is now seen as a key part of retaining market share and improving ones competitive advantages. Quality management is a significant part on any project planning and formulates the boundaries of acceptance your team will tolerate for the deliverables, products and services they must use during the project.
Many organizations have to meet strict compliance demands and regulations and these industry standards must form part of the project's quality measurement and control. Poor managed quality or substandard resources cause severe problems and the repercussions can be felt outside the project team as well as within it. Quality affects every aspect of the project and emphasizes the need for it to be properly measured, managed and controlled at all times.
Many successful project managers ensure that the quality aspects of their project have their own plan that defines the procedures, policies and processes to be used for the duration of the project. This quality plan explicitly explains how it will be implemented for this project.
The depth of this explanation will vary according to the individual project requirements. As a component of the project plan its importance cannot be overstated and there are three key issues it addresses. They are:
1) Definition of project's quality objectives.
2) Description of how quality standards will be defined and assessed during the project.
3) Details how quality will be measured.
4) Outlines the testing roles, responsibilities and their associated resource requirements.
5) Describes what the acceptance criteria are for the individual work packages and deliverables along with their milestone requirements.
6) Outline of how independent validation will be conduct to ensure the project meets any compliance or regulatory requirements of the market or industry.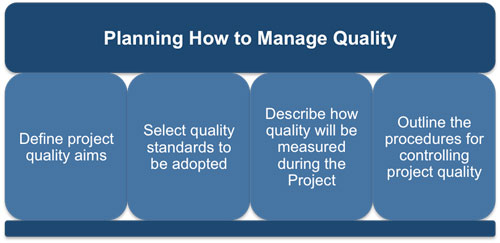 Project Quality Management Plan
Within the plan all the processes and procedures that will be used for the project life cycle are defined to ensure that the team has a clear plan to follow in this area and that measures for assessing quality control and assurance are in place. It is important that the project manager gets the approval from all stakeholders and they become familiar with all quality facets.
The approach to quality management will match the needs of the organization and the project and a full description is included in this plan. This must be communicated and understood by all involved in the project so that it is clearly understood that no matter a person's interest or influence the quality will not be compromised.
One of its main purposes is to minimize the amount of rework and wastage both in terms of cost and time. Many projects appoint a quality group manager to work with the project team and be responsible for defining what metrics will be used to assess quality, when and how these measures will be taken and how the results will be analyzed and reported. Once this has all been agreed approval from the project sponsor can be sought.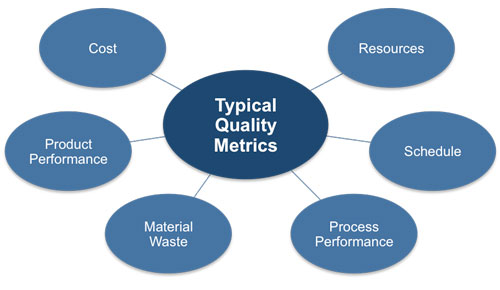 Quality Metrics
It is important to ensure that everyone involved on the project team and the quality group understands that they can highlight quality issues that will follow a predefined review process to judge whether the improvement adds more value to the project than its implementation cost. To ensure all lessons are learnt within this area, the plan makes specific reference as to how such issues are documented throughout this submission and evaluation processes.
Within the world of project management there are a variety of proven procedures to help them to plan for and manage quality. They are mainly statistically based so a project manager will need a working understanding of statistics, but he can call on experts to help him or her out if they are unfamiliar with some techniques.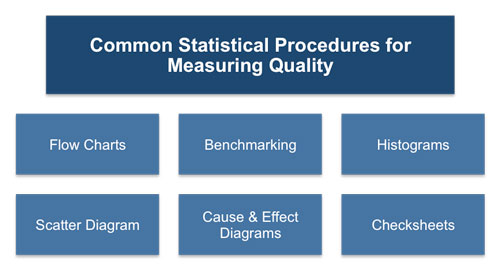 Project Quality tools
Another very common technique that is used when planning quality management is 'benchmarking'. This is extremely useful to the project manager because they take an industry or organizational standard as their point of reference. This enables her or him to take planned practices they want to use in the project and compare them to other similar projects to gain an understanding of best practices, provide a measurement base and to help the formulation of new ways to improve quality. It can also be used during the project to compare actual performance with these standards to assess quality levels.
Successful project managers understand the importance quality management plays in communications with their stakeholders and see this plan as a significant tool in engaging this group of key people in the quality management process. Quality reviews for a key part of assessing and managing quality control and this management plan will define the essential individuals who must take part in such meetings. Quality control systems often include the use of external audits and inspections as a cost effective way to achieve quality assurance.