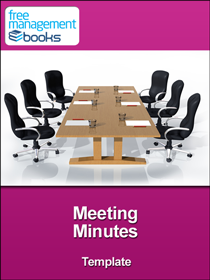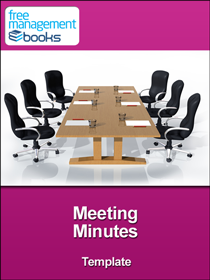 Meeting Minutes Template
This meeting minutes template provides a structured means to record all essential discussion details and findings.
Meeting minutes refer to the summarized recording of key information during a meeting. Minutes are used in business and legal meetings to provide a concise summary of events. While not intended to contain the complete details of an event, there are a number of items that should be included. Essentially, these will include the name of presenters, key topics covered, and a list of attendees. For a complete description of what should be covered, check out our free e-book on meeting minutes. Below, we are going to look at why minutes are so important and what they accomplish.
Why Use Minutes?
Minutes can serve as a legal document, and office accountability sheet, and a streamlined method of tracking projects by assignment. The question you should ask is; why would I not use meeting minutes? My reply to this would be "beats me".
Establishing Accountability
Anyone who has ever been in charge of a project knows that accountability is important. If you are not sure who is responsible for what, you cannot effectively introduce corrective measures into the equation. At the most basic level, minutes are used to record who is accountable for a project. Remember, minutes are only a summary, so you will still need to create a comprehensive project plan.
Verifying Who Was In Attendance
Managers; have you ever questioned an employee about something to hear "Oh… I didn't know about that, nobody told me". If you have been in the game very long, it is likely that you have. Minutes are the solution to that problem. By recording who was in attendance, you are able to verify whether or not an employee was given that information and both of you know it. This serves as a motivational tool for employees and a tracking instrument for managers.
Keeping the Meeting Productive
While not the primary concern of the minutes recorder, creating a minutes template based around the meeting agenda is very beneficial to both the recorder and the meeting. The minutes recording is obviously benefited by knowing what is going to be covered and in what order. The meeting itself can benefit as the recorder can steer the meeting back on course in the event it strays. This is common when using a recorder that is part of the team and not outsourced. If for no other reason alone, you should give minutes a try and see if your organization increases during meetings, just make sure to let your recorder know it is ok to monitor time and topics for this reason.
Recording Agreements and Actions
As a manager, you will spend a lot of your time figuring out what needs to be done, and who needs to do it. Through the use of meeting minutes, you can streamline this process. A correctly completed minutes form will allow you to quickly reference what agreements were made and what actions are to be taken. They will also allow you to see who was assigned the task, clearly showing accountability.
Creating a Point of Reference
Even the best laid plans can fizzle after some time. Projects can often get shifted to the back of the line and overlooked unintentionally. When used and created properly, your meeting minutes can help to curtail this issue. I suggest that you send a copy out to each of the members attending and anyone else who would need the information contained therein. That will allow everyone to be on the same page, while serving as a reminder of what needs to be competed.
Remember, meeting minutes are very important to the productivity and accountability of your meetings.
Alternative Meeting Minutes Templates
Meeting Minutes Templates for Word
With a wide variety of meetings ranging from informal to formal, these meeting minutes templates are worth checking out.
Meeting Minutes Templates for MS Office
Keep track of your club or business meetings with the contemporary minutes template.
Key Points
Meeting minutes are a summarized written record of a meeting which detail what has been decided and by whom it is to be actioned.
In certain circumstances, minutes may be considered as legal documents, but even where this is not the case they represent the definitive record of the meeting.
Often the person selected to take the minutes has this task as their sole responsibility during the meeting.
Meeting minutes typically include: the name of the team or committee and the date, location, and time of the meeting as well as a list of the attendees.
For each item on the agenda, the name of the person who led the discussion as well as any decisions that may have been reached should be recorded.
Minutes are circulated with sufficient time for updates and reports to be provided to the meeting.
Minutes provide key pointers for organizing the next meeting's agenda and help in making the decision whether or not critical issues or outstanding actions need to be a specific item on the agenda.
Take rough notes that accurately reflect the decisions and discussion that took place during the meeting.
Write up these notes in an agreed format (whether electronically or in hard copy) so that information can be easily discerned and communications are clear, thus avoiding any confusion. Responsibilities and ownership must be clearly indicated within the minutes.
Copy and distribute the minutes to all relevant people as detailed in the Participants section.
Ensure that a copy is filed appropriately, keeping all minutes together in a file for future reference.